THINGS TO DO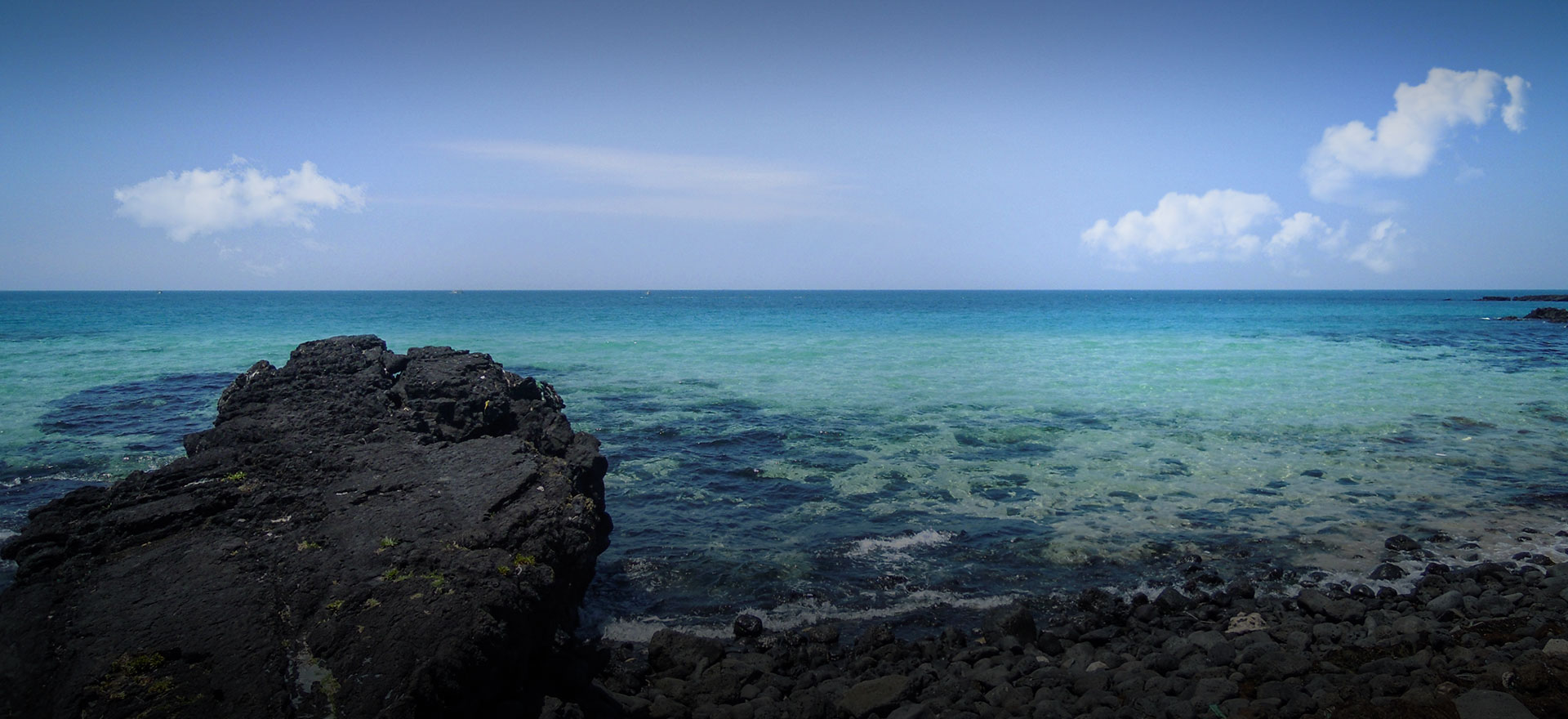 ABOUT JEJU
Rising skywards from the earth's crust, volcanic Jeju Island formed around 1.8 million years ago. Known as "The Hawaii of South Korea", Jeju has become a popular tropical getaway, welcoming guests from over 180 countries with convenient direct flights to major regional cities including Shanghai, Tokyo and Hong Kong. Visitors can select from a multitude of natural attractions, including pristine beaches, mountains, waterfalls and caves.
Jeju was acknowledged by UNESCO as a Biosphere Reserve in 2002, a World Natural Heritage site in 2007 and a Global Geopark in 2010. Jeju's best-known natural sites include Mount Hallasan Natural Reserve, Geomunoreum Lava Tube System and Seongsan IIchulbong Tuff Cone. Besides its natural wonders, this culturally-rich island has its own language, people, cuisine and customs, giving visitors the opportunity to truly understand this exceptional island.
ABOUT JEJU

ABOUT JEJU
EXPLORE THE BEST
OF JEJU ISLAND
Good planning makes for a fruitful holiday!
Find out more about Jeju before arriving to maximise your time.
JEJU OREUM

Formed from lava deposits built up over the course of many years, oreums are distinctive volcanic cone-shaped mountains, dotted with craters. Jeju's Geomun Oreum is one of the most famous of the Island's 368, and well worth the hike.

MOUNT HALLASAN

Choose one of six unique trails to summit the mighty Halla Mountain, also known as Yeongjusan Mountain, or "mountain high enough to pull the galaxy". South Korea's tallest mountain towers 1,950m above sea level; the breathtaking lake crater at its summit is both beautiful and serene and should be considered an unmissable attraction.

SEONGSAN IICHULBONG
TUFF CONE

At 180m above sea level, Seongsan Ilchulbong is a volcanic crater that erupted underwater over 5,000 years ago and is now home to over 200 species of vegetation. Jeju Island's local population often hike and camp at the peak each December 31 to welcome in the first sunrise of the new year.

JEJU OLLE TRAIL

This epic hike circumnavigates the entirety of Jeju Island, and is known as one of Asia's top treks, at a total of 425km. Visitors with less time to spare can tackle one of 26 individual routes that make up the Jeju Olle Trail, taking in stunning scenery and delicious local cuisine as they go.

IHO TAEWOO BEACH

Just eight minutes by taxi from Jeju Dream Tower, this beach is popular with surfers, couples taking pre-wedding photographs and those wishing to capture a few shots of the iconic red-and-white pony-shaped lighthouses. Enjoy a coffee or snack with beautiful sunset views at one of the many cafes that line the beach.
A DESTINATION FOR ALL SEASONS
Jeju Island is a year-round destination, with something new to offer visitors each season.
GWAKJI
BEACH

IHO TAEWOO
BEACH

GIMNYEONG
BEACH

SEOPJIKOJI

BIJARIM
FOREST

SANGUMBURI

CAMELLIA
HILL

CHEONJIYEON
WATERFALL
Gwakji
Beach

Iho Taewoo
Beach

Gimnyeong
Beach

Seopjikoji

Bijarim
Forest

Sangumburi

Camellia
Hill

Cheonjiyeon
Waterfall
HEALING NATURE
Experience the peace and healing power of nature on unspoiled Jeju Island.
HALLA
MOUNTAIN

GEOMUN
OREUM

MANJANGGUL
(CAVE)

SEONGSAN
ILCHULBONG

UDO

MUNSEOM
(ISLAND)

SUWOLBONG
GEO TRAIL
Halla
Mountain

Geomun
Oreum

Manjanggul
(Cave)

Seongsan
Ilchulbong

Udo

Munseom
(Island)

Suwolbong
Geo Trail
WORLD HERITAGE SITES
Discover more at one of three UNESCO-awarded attractions.
DONGMUN
TRADITIONAL MARKET

HEUK-DWAEJI
(BLACK PORK) STREET

JEJU
STONE PARK

JEJU HAENYEO
MUSEUM

HALLA FARM
(TANGERINE PICKING)

JEJU FOLK
VILLAGE MUSEUM
Dongmun
Traditional Market

Heuk-dwaeji
(Black Pork) Street

Jeju
Stone Park

Jeju Haenyeo
Museum

Halla Farm
(Tangerine Picking)

Jeju Folk
Village Museum
LOCAL CULTURE
Uncover the authentic taste, heart and soul of South Korea.
JEJU HORSE
RIDING PARK

RAON
GOLF CLUB

PINX
GOLF CLUB

CLUB NINEBRIDGES
(GOLF)

LOTTE SKYHILL
COUNTRY CLUB

SEOGWIPO
SUBMARINE

MUNSEOM (ISLAND)
SCUBA DIVING
Jeju Horse
Riding Park

Raon
Golf Club

Pinx
Golf Club

Club Ninebridges
(Golf)

Lotte Skyhill
Country Club

Seogwipo
Submarine

Munseom (Island)
Scuba Diving
THE GREAT OUTDOORS
Excitement, challenge and spectacular views await as you head back to nature.
RECOMMENDATIONS
November is Jeju Island's citrus fruit picking season, where ripe, delicious tangerines burst forth with flavor – a fantastic activity for the whole family.

TANGERINE PICKING

Challenge yourself to experience the spectacular scenery of Halla Mountain. Your reward lies at the summit, where a serene crater lake awaits.

HALLA MOUNTAIN

Meet the inspiring female fisher-folk of Jeju Island and learn more about their unique culture, unchanged for centuries.

HAENYEO EXPERIENCE

Enter the magical volcanic world of Manjanggul
– the world's largest lava tube.

MANJANGGUL (CAVE)
YOUR DREAM JEJU ISLAND
VACATION AWAITS
Live your dream at Jeju Dream Tower – our itinerary planner helps you make the most of every precious moment.
VISITJEJU.NET
IS YOUR ULTIMATE GUIDE
TO JEJU
JEJU TOURIST INFORMATION CENTER
LOCATION

Jeju Welcome Center, 23 Seondeok-ro, Jeju City,
Jeju Special Self-Governing Province 63122,
Republic of Korea.

INQUIRY

+82 64-740-6000